Jayson Gacho, an 18-year-old native of Balete Gloria in Oriental Mindoro, is second in the brood of five children. His father died when he was in Grade 5, so his mother had to take a housemaid job in another town to provide for their family's needs.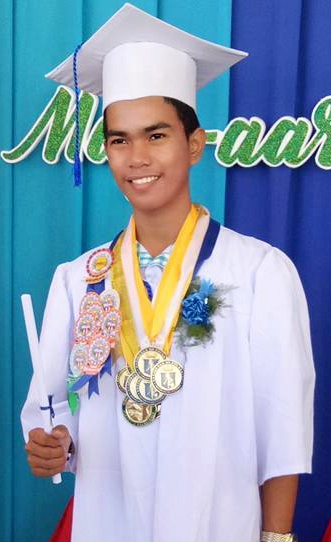 "My mother shares with me the difficulties of working as a house help.This gnawed on my conscience so I thought twice about going to college because I felt I should be helping out instead."
Going to college was not one of Jayson's plans because he wanted to find a job right after his high school graduation, but all that has changed after receiving an Entrance Merit scholarship grant from FEU Alabang.
One morning, he received a text message from a classmate saying that FEU Alabang is conducting a scholarship examination at Bulbugan National High School where he is currently a senior high school student. Jayson saw an opportunity and reluctantly signed up for the exam.
"When I was taking the exam, although I was still bothered by the difficulties that my mother was going through, I tried my best to focus because I did not want the opportunity to go to waste."
Jayson successfully qualified for the Entrance Merit Scholarship, which is given to those who scored 90 percent and above in the College Admission Test and with an 85 percent general average in high school.
"I am so grateful to FEU because they travelled as far as Mindoro to look for deserving students for their scholarship grants. I still cannot believe it, but I think that this is the answer to my family's prayers."
Jayson is now on his way to dream even bigger dreams for his family and himself.