Honors' Society President and Elite Scholar Deinielle Medina Sancon emerged as FIRST PLACE in the Angel C. Palanca Peace Awards' 2019 Essay Writing Competition.
Currently taking up BS Information Technology with specialization in Service Management and Business Analytics, Deinielle eagerly continues to maintain her balance between academics and extra-curricular activities.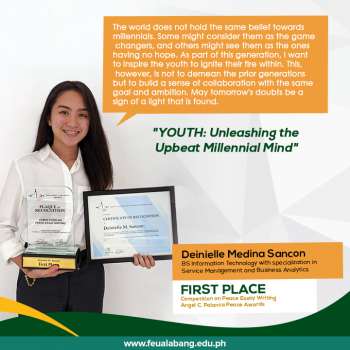 Her winning essay, entitled "YOUTH: Unleashing the Upbeat Millennial Mind", talks about the role of millennials in shaping a peaceful future. Below is an excerpt from her essay:
Youth movements possess great strength. Youth movements, in different parts of the world have significantly brought change in the society. It is more than just shouting for our voices to be heard. Through this, young minds are created a safe space to show one's bravery. How can we grasp change if everything remains to be in our comfort zone? This is what we stand for, to have the courage for what we believe in, just like how our parents and mentors inspire and taught us.
Click here to read the full transcript.